TESSA Digital Asset Management for Akeneo
Akeneo PIM compatibility
Enterprise Edition (SaaS)
Supported
Enterprise Edition (PaaS)
Description
TESSA - The perfect Digital Asset Management Solution for Akeneo
With this Connector Bundle you seamlessly connect Akeneo with the Digital Asset Management solution "TESSA" (https://www.tessa-dam.com). This provides you with a professional and fully integrated DAM solution for Akeneo to centrally store, manage and use all additional files for your products (e.g. images, videos, documents, etc.) in all channels. This connector is compatible with all Akeneo editions – Enterprise, Community, Growth, Cloud Flexibility and Cloud Serenity.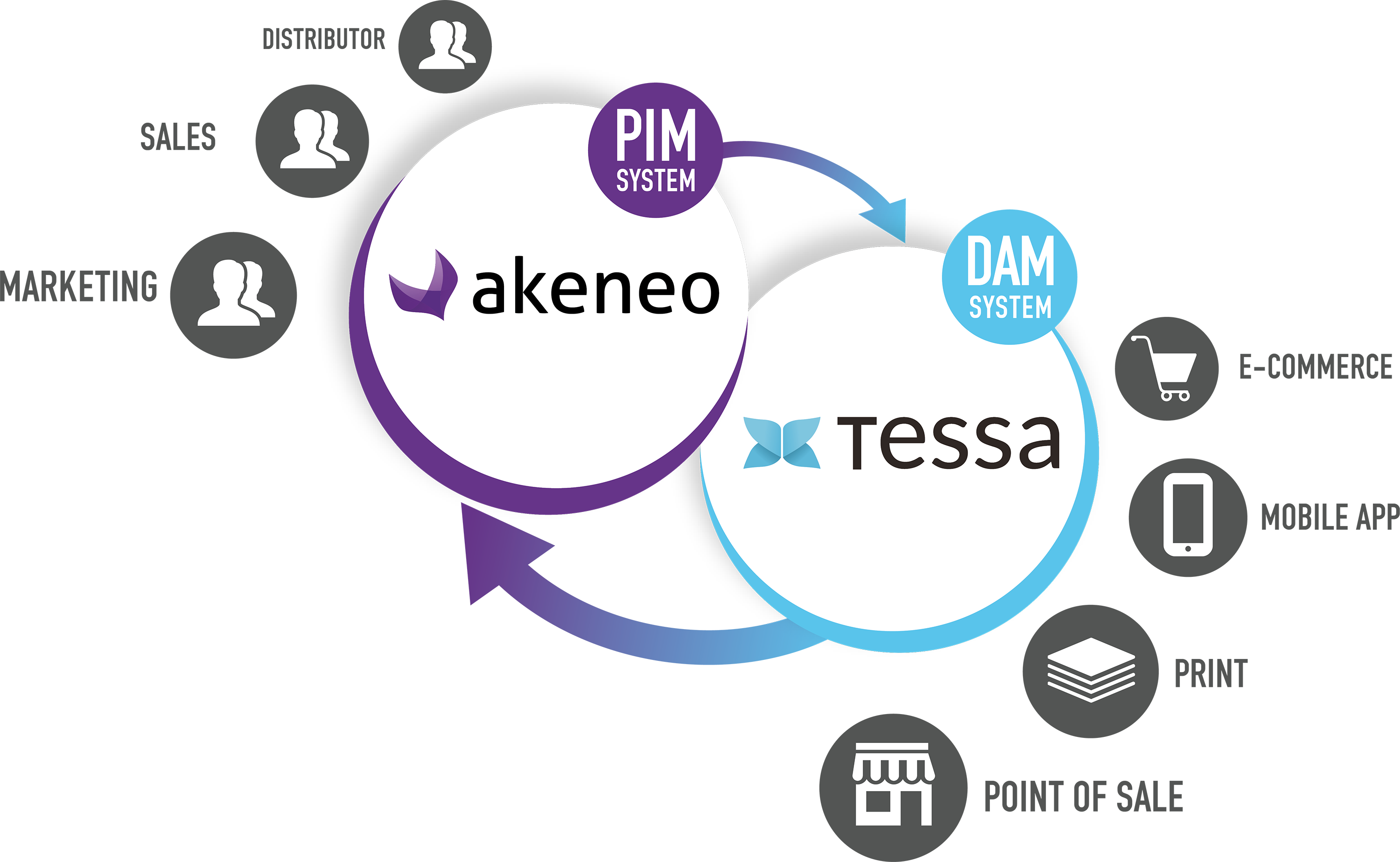 With this combination of TESSA-DAM (for Digital Asset Management) and Akeneo-PIM (for Product Information Management) it is possible to use both systems independently or integrated. Thus, graphic designers, photographers and agencies can work directly in TESSA (without access to Akeneo) to deliver and prepare image and media data. On the other hand, product managers and marketing managers can work directly in Akeneo and link assets (images, productsheets, manuals and videos) to products with just a few mouse clicks. The benefits of both systems are available to everyone, whether you work in TESSA-DAM, Akeneo-PIM, or both.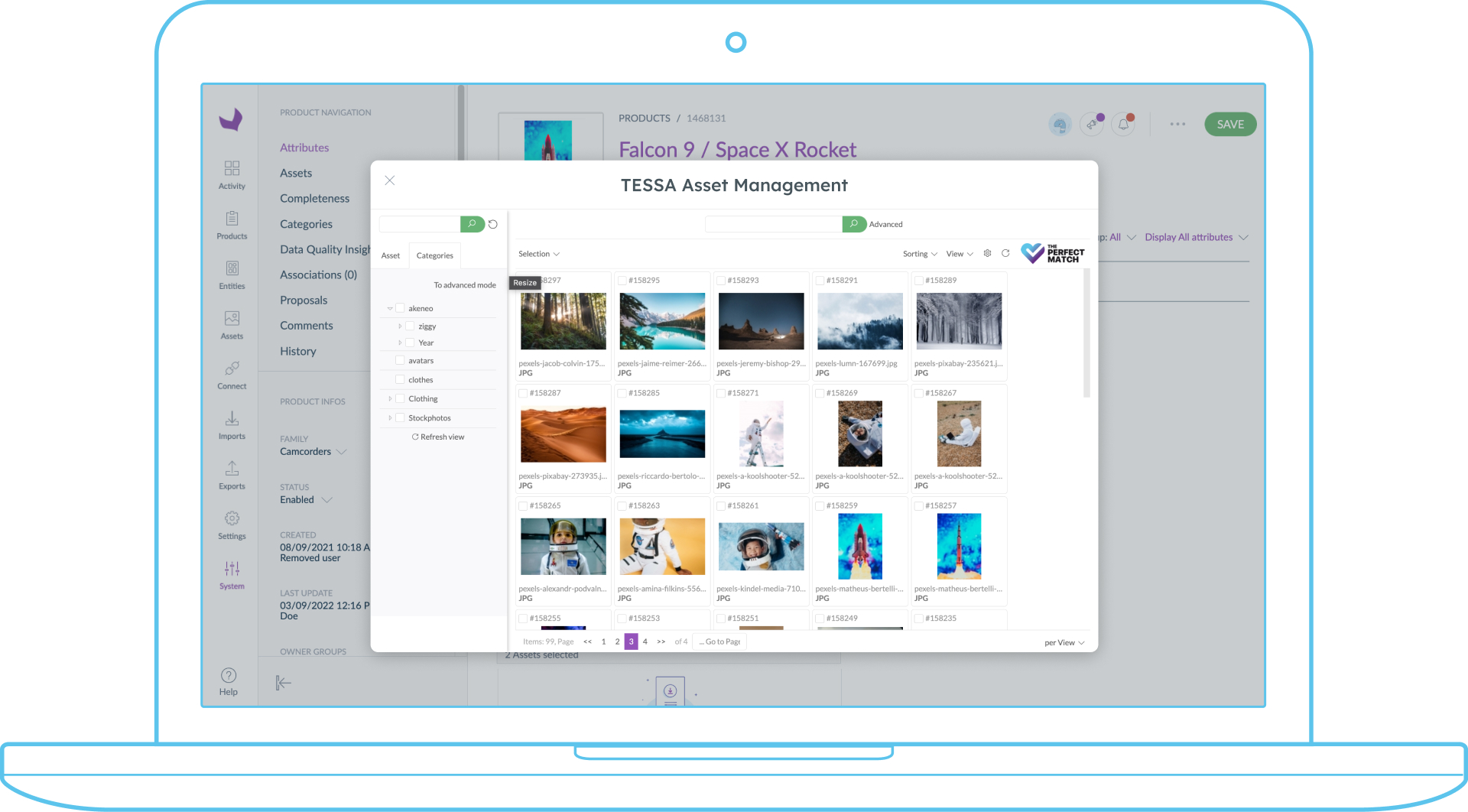 As the first provider of a fully integrated Digital Asset Management solution for Akeneo, we have the longest experience in dealing with media and products in the Akeneo area. We use this experience to continuously develop TESSA and the connector. We create solutions to constantly improve your daily work with product and media data and to simplify your daily work with your products.
The integration takes place via a new attribute of the type "TESSA CONNECT" directly in Akeneo. This attribute allows you to create new language- and channel-dependent attributes in your product families and thus link any assets to any product.
In addition, the connector automatically exchanges data between TESSA-DAM and Akeneo-PIM in the background. This means that almost all important information from Akeneo can be used in TESSA-DAM. This includes product data, channel formats and attribute settings. All this is necessary to enable a deep integration of both systems and to optimize the user experience.
Expand your possibilities and features with TESSA DAM for Akeneo PIM
After installing and configuring the connector, you can access all functions of your TESSA directly from Akeneo via the integrated Asset Selection dialog. These include the following functions:
Full text search in all assets (even file contents in PDF and Office documents can be searched)
Automatic or manual tagging and categorization
Filter and sort options according to file types and metadata
Workflows and approval processes for assets and versions
Team functions such as projects, collections and saved searches
Automatic file conversion for any definable output channels (e.g. print or web)
Exports for MS Excel, MS PowerPoint and Adobe PDF
Commenting and versioning assets
Sorting of assets by attribute via drag&drop
Integrations for Adobe Photoshop, Adobe InDesign, Adobe Illustrator or Lightroom
CDN ready for Cloudflare, AWS Cloudfront, Akamai and MS Azure
media portals for the targeted distribution of all digital assets linked with product data from pim
File upload via drag&drop
Fully automated linking of assets and products via rule-based workflows (e.g. based on file name or article number)
and much more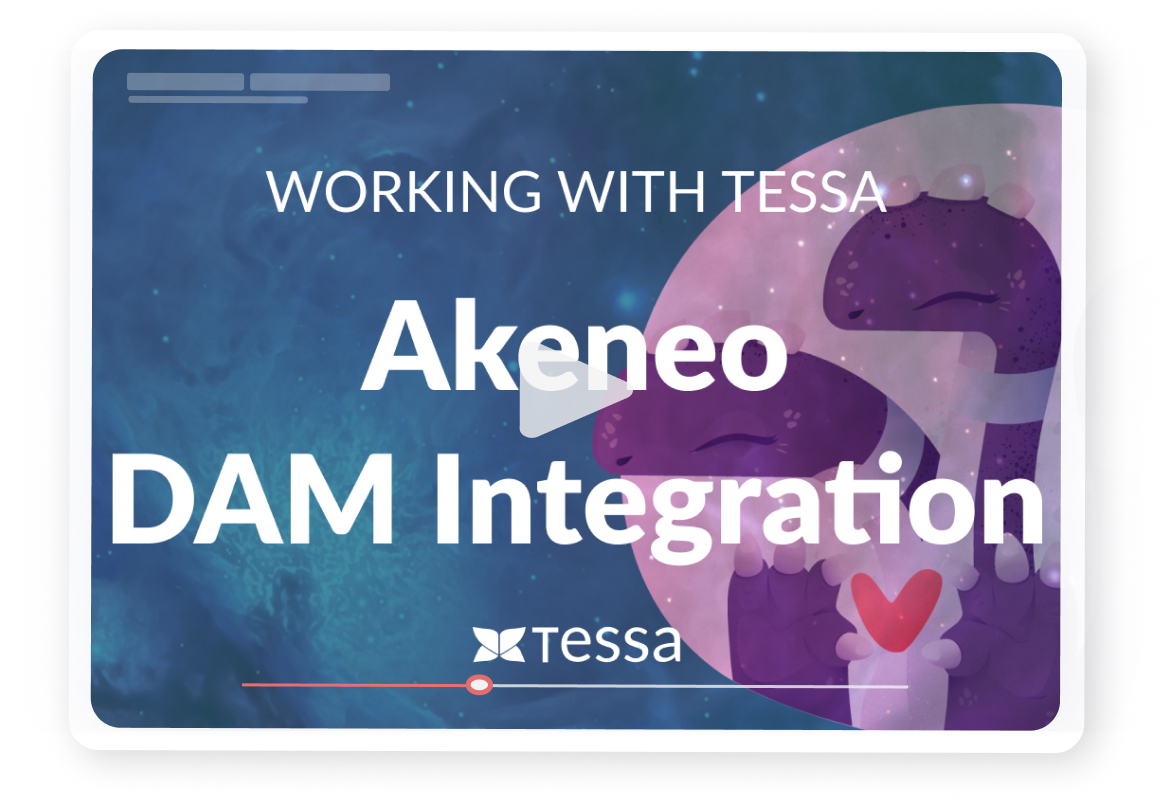 TESSA Features
Take a look at our overview of all features of TESSA-DAM on our product website at
Further information
You can find more information on our website or on our Youtube channel.
Contact and Support
Simply contact us to learn more about the integration possibilities and benefits of TESSA. We can also arrange a free web session to show you TESSA live.
Feature list
Latest update:

September 16, 2022
PIM EE compatibility with asset manager
General: DAM assets synchronization with PIM assets
Configuration: PIM asset families to synchronize

Synchronization scheduling system

Synchronization error notification system

Retrying synchronization after failure
General: DAM assets synchronization with PIM assets
DAM assets media URL synchronization (Asset media link)

DAM assets metadata synchronization

Image media synchronization

PDF media synchronization

Youtube media synchronization

Vimeo media synchronization

Other media synchronization
PIM Product/asset association management
Configuration: PIM product families to associate

Automatic association via PIM "Product link rule" engine

Association according to the product locale

Association according to the product channel

Multi products association

"Atmosphere" image management (image synchronization at PIM product model level)
PIM CE/GE compatibility
Media binaries synchronization
Capability to manage PIM "File" product attributes

Capability to manage PIM "Image" product attributes
Media asset URLs synchronization
Capability to synchronize DAM asset media URLs in a PIM product attribute
Both ways metadata synchronization
PIM product information synchronisation in DAM asset metadata
Release notes
Release Notes TESSA and the Connector
Download a complete overview of all versions here.
Documentation
User guide TESSA and the Connector
Please see the TESSA with Akeneo user guide here.